Instructions for IRB Members
Log in to ARROW (http://arrow.wisc.edu) using your NetID and password.
Once logged in, make sure the "My Roles" bar in the top left displays "IRB Member" as your role. If it does not, select "IRB Member" from the drop-down menu under "My Roles."
You are now in your IRB Member homepage.
Print Meeting Agenda
Click on the "Meetings" tab in your IRB member homepage. You may need to click on the "…" tab to open a drop-down menu before you can select "Meetings."
Click on the meeting for which you wish to review and print the agenda. You are now in the meeting workspace.
Click on the button labeled "Print Open Agenda" to print a hard copy of the open agenda.
Click on the button labeled "Print Closed Agenda" to print a hard copy of the closed agenda.
NOTE You can access any agenda items in the closed agenda by clicking on the ID number. If you are not assigned as primary reviewer, this is how you can access submissions to review them for an upcoming meeting.
To return to your IRB member homepage, click on "My Home" in the upper left corner.
Reviewing Initial Application submissions
In your IRB member workspace, check your "HS/MR: Initials" or "ED/SBS: Full" tab for submissions assigned to you as one of the primary reviewers.
Click on the title of the submission in your Inbox to access the submission workspace and begin your review.
Otherwise, access the submissions being reviewed in a meeting from the agenda.
Once in the submission workspace, the upper-left should indicate that the submission is in the "Assigned to IRB Meeting" state. The submission title should be displayed near the top of the screen.
In the History tab, select "Pre-review checklist prepared" to view HRP-401, the pre-review checklist completed by the staff reviewer.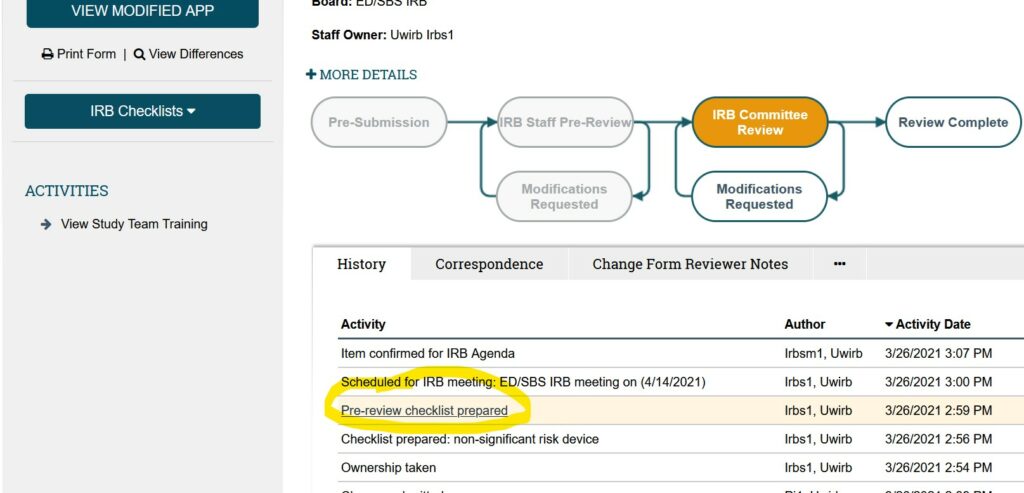 Click on the button labeled "View Application" to review the initial application SmartForm. Use the SmartForm features, including the "Continue" button and the "Jump To" menu to navigate the form.
NOTE Use the "Jump To" menu to go back to previous pages of the SmartForm rather than using the back button on your internet browser.
Once you have finished reviewing the protocol, application, and supplemental documents uploaded by the research team (e.g. consent forms, study protocol, questionnaires, recruitment materials), you can exit the application using the "Exit" button near the top of the screen. This will take you back to the submission workspace.
Any required checklists will be completed during the IRB meeting.
---
Who to Contact
Help with navigating and using ARROW

Contact the IRB Member Point of Contact,

Jackie Lee

at (608) 261-1157 or

Jessie Johnson

at (608) 263-0835

Questions about a specific protocol